Neil The Lock Doctor

Specialists in Keyhole Surgery
About Us

Neil The Lock Doctor, is in fact Neil Allen.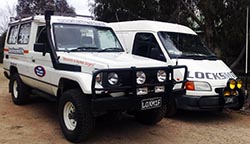 Neil is a multi qualified tradesman who has qualifications including, but not limited to, Carpentry Joinery and of course Locksmithing. Neil completed a Advanced Certificate of Engineering (Locksmithing) at The Security Technology centre at North Melbourne College of TAFE in the 90's and has since worked at The Melbourne Reception Prison (Pentridge) and the Mansfield District Hospital. His skills are of the highest order, as is shown by his having received two trade awards for excellence.
Neil is assisted by "nurse" Jodie and with Donna in accounts.
The Business has been in Mansfield since 1998 and is a registered contractor with
Mt Buller Resort Management Board - Contractor No. S17-0165
Neil is also proud to be a member of the Locksmiths Guild of Australia - Member V488.
In Victoria there are "pretend/unqualified" Locksmiths, so for your peace of mind and security you need someone like Neil - a member of the Guild and licensed by Victoria Police.
My Licence No. is 720-872-30s. If you want to make sure you are using a locksmith that complies with the Victorian Private Security Act 2004, please click here to access the Victoria Police Register of Licence, Registration and Permit Holders.
ABN 95074603250